High-efficiency Mechanism
The handle's mechanism was designed to be as compact as possible whilst having the top mechanical efficiency.

It is important that the thumb's efforts are not unnecessarily dissipated by friction in the mechanism. To this end, we paid special attention to guiding the mechanism and to reducing friction between the different rotating parts.

Regarding the mechanism's axis and its guiding, we have opted for innovative solutions for the bearings (casing/hood) to have a guiding as accurate as possible.

To optimize the axle's friction, thorough testing and developments were undertaken leading us to design a highly technical bearing. This bearing, made of top quality composite, is not only self-lubricating but also has a very low friction coefficient. Moreover, it has no stick-slip effect characterized by a sticking effect to the axle during very small movements. This bearing will not generate jamming stick-slips and is resistant to dusty or sea environments.

Concerning the other rotating parts, namely the cable control gear and the lever driving gear, they have been designed to provide a robust motion whilst being extremely fluid during the user's actions. We used a Teflon-based resin composite to reduce frictions to 15% compared to conventional plastic or metal gearing.

These different elements allow an ease of control and diminishes the user's muscular efforts.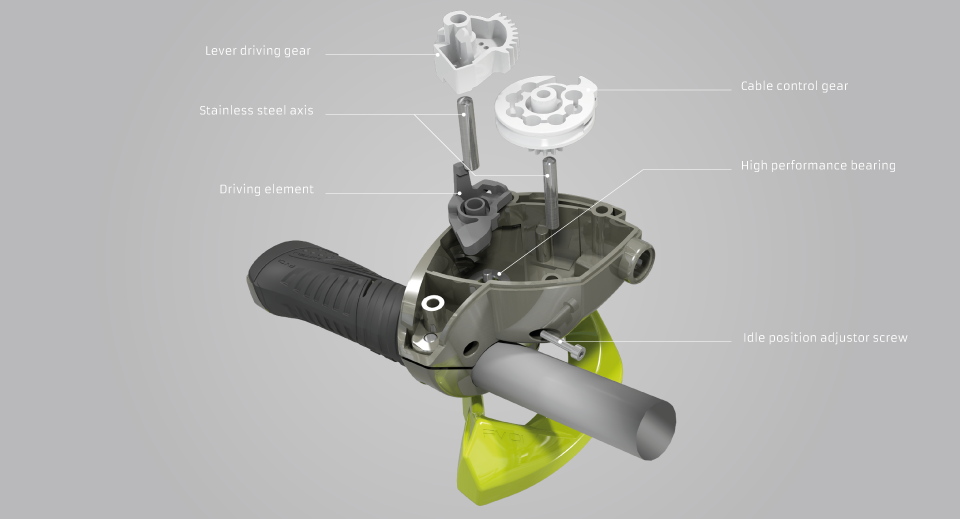 Cable adjustment system
The mechanism also entails a specific adjustment system for the accelerator cable. This allows the cable's tip's to hook on the gear regardless of the cable's length. The cogwheel has several slots in which the cable's tip can lodge itself as well as several sprocket tooth in order to easily adapt to different vehicles.
Thanks to a specific throttle cable adjustment system, regardless of the length of cable sticking out, several positions are possible for the cable control gear and the cable sleeve. This results in an easy fitting on any vehicle with a proper opening for the control lever.
Users will preferably choose the first slot on the gear and will twist it in order to slightly stretch the cable.The user will then, thanks to the several slots, insert the cable at a correct angle. The fine adjustment of the cable tension is achieved by screwing the cable's tip then the locknut.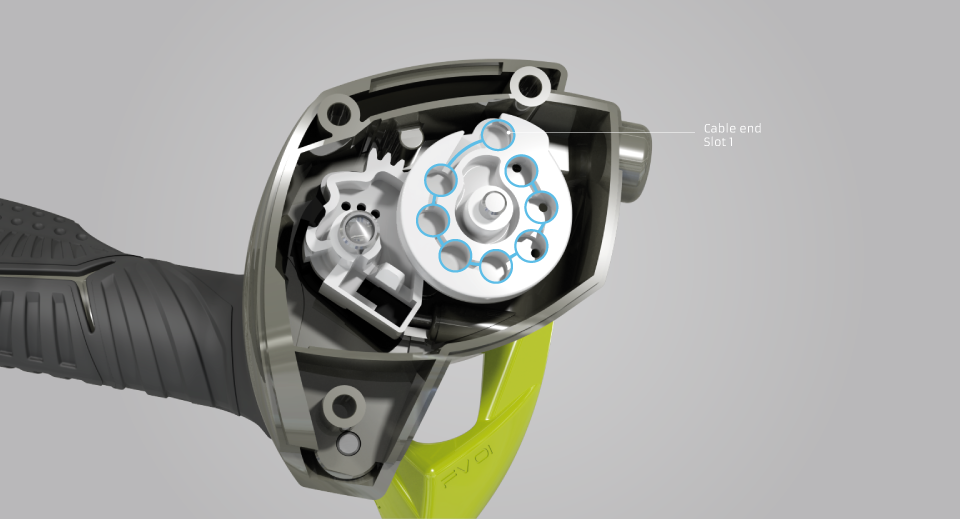 Handle locking pin system
The INOVELI handle system has many technical and ergonomic innovations including the fitting of the handles to the handlebar.

Thanks to our handles' slightly flat shape to fit the hand's morphology and its palm support, the torque generated by the user is twice as much as the one generated on a conventional cylindrical handle.

Bearing in mind the grip's rotation issue on conventional tubular handles, it is essential to find a genuine technical solution to lock the handles on the handle bar without rotation/translation movements. After several tests, we have chosen a locking system with a pin allowing a genuine mechanical solution and an easy assembly.

To ensure maximum safety to our users, two pin slots are available on the inner section (casing) and outer (tip) sections of each handle. Depending on the vehicle's conditions of use, users' may choose or not to install these pins.

This system of locking pins is an important part of our system's performance and safety as it prevents any rotation by the handle which would affect the user's grasp on the handlebar, the vehicle's control and thus the user's safety.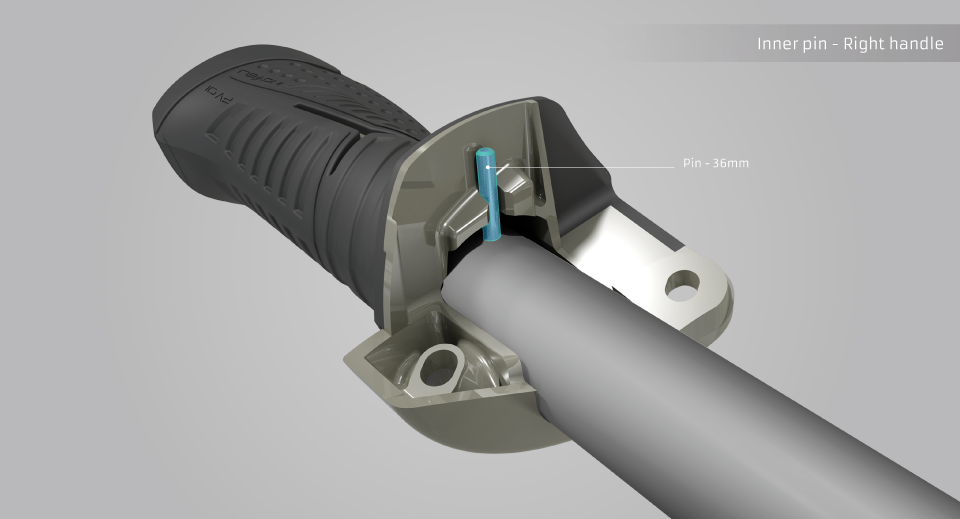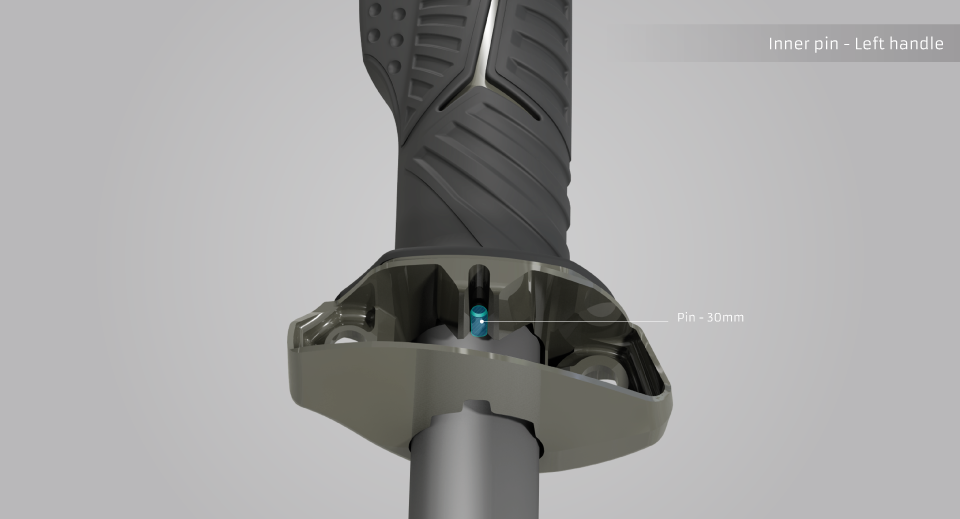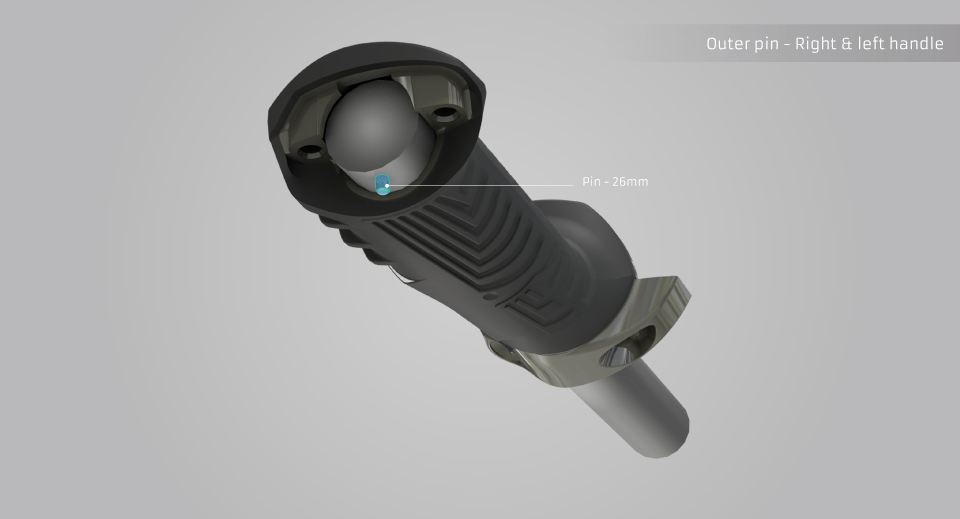 The materials used for our products are selected amongst the best for their technical performances. Thanks to these materials, the throttle lever can endure tensile efforts of over 100 kg!

The gears are made by injecting a Teflon-based resin which gives it a very low friction coefficient. All metal parts (screws, bolts, ...) are made of a stainless A4 Premium steel resistant to sea environments.

The grip is made of high-tech polymer thus providing excellent shock absorption and a very nice texture. Furthermore, it keeps a good grasp even when soaked.

Thermoplastic composite resins have also been selected for their ability to withstand UV without altering their mechanical properties or their appearance.
Validation and quality tests
Many validation tests are performed on our products to ensure, regardless of the conditions in which they are used, their quality and efficiency.
To this end, we rely on multiple validation tests in laboratories, as well as dynamic tests on vehicles by experiences pilots.

Thanks to our industrial partner SMR, we implemented very strict specifications based on those used by the most rigorous automobile professionals in order to guaranty perfect operation of our products even in extreme conditions.

The following is a list of laboratory tests undergone by our products :

• Saline mist environment.
• Dusty environments (dust+ extremely thin and abrasive sand.)
• Resistance: over 100 000 cycles.
• Resistance to extreme temperatures (from -30°C to + 85°C).
• Mechanical rigidity
• UV test

As for tests on vehicles, these are mostly done by racing drivers so as to develop high-performance products.

Dynamic tests are performed on all types of vehicles, from dirt bikes to scooters, ATV and jet-skis. We use our own procedures resulting from our experience in the motorsports' world to validate and develop our own technical solutions.